Affiliate of Just4mypets
MyPetDMV is the nations #1 choice for Custom Pet ID tags!
We have been featured on TV, Newspapers, and Radio. Design your custom ID in under 5 minutes and we'll have it shipped tomorrow.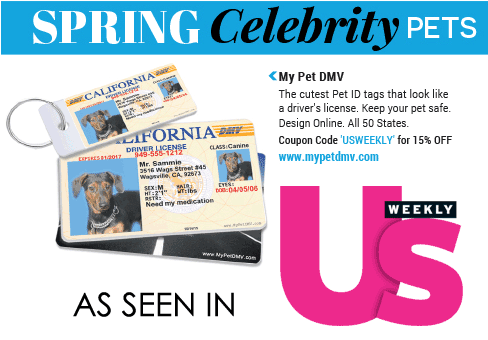 Pet Driver's License Tags
Each Pet ID License comes with (1) large wallet sized Personal Pet ID Tag that looks similar to an actual Driver's License and (3) smaller versions for $19.95. Each card is printed on a fade resistant plastic card with a 100% lifetime replacement guarantee. As a bonus we provide FREE SHIPPING on ALL ORDERS.

LuLu, Chicago, IL
"I used to spend a fortune on limousines, but now I can drive my Mom and Dad to all their red carpet events in our Bentley! Thanks My Pet DMV!"

Tinkerbell, Orlando, FL
"Now that I'm retired, there's nothing I enjoy more than driving to antique shows with my Dad and Mom. My Pet DMV helps me get all of my senior discounts too!"

Charley, Newport CA
"These are the most authentic licenses I've seen. We've tried another Pet ID License company, only to see the quality was horrible. These IDs are authentic and match my real license!

Baxtor, New York, NY
Our Pet Licenses lasted almost four years without fading or falling apart. The keychain ID is the best.